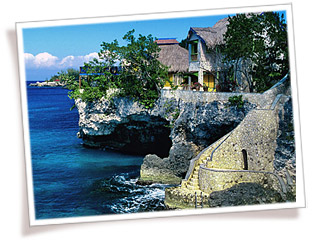 The Caves in Negril, Jamaica is an organic interpretation of romance. Designed by Greer-Ann and Bertram Saulter, each of its 10 handcrafted cottages is planted in a garden on the edge of the sea. It's the perfect choice for guests who value spirituality, privacy, romance and verdant beauty.



The Caves is located on the Lighthouse Road in the West End of Negril, a resort town in western Jamaica. Staying at
The Caves puts you in the center of a lush,
serene environment - with easy access to
the nightlife and legendary beaches of Negril.

Brochure Request
Contact Us


Email a friend

Print-friendly page
The rooms at the Caves are cozy and romantic. They are airy and spacious and designed with verandas and other elements such as outdoor showers that enhance the sense of openness.
10 naturally ventilated private cliffside villas with one or two bedrooms, ocean views, verandas and garden baths or showers
Mini bars for entertaining

CD players and CD libraries
Telephones and data ports
TVs and VCRs on request
Coffeemaker and other utensils

and, to keep you happy...
A natural cave furnished for intimate dining
Aveda Mini-Spa
Cliffside Jacuzzi


Sauna
Hot tub in a cave
24-hour self service bar
Stairs and walkways for easy access to the sea
Saltwater swimming pool
Authentic land and sea excursions
Water rafts, kayaks and snorkeling equipment
Bicycles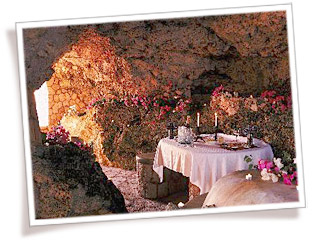 A multitude of dishes are served daily in different locations from barbeques to magnificent buffets and finger-foods.


Cocktail Cliffhanger
Spicy Snapper Cakes on a Bed of Rich Tomato Salsa
Carrot Ginger Bisque Garnished with Seasoned Croutons
Verde Tropical Drizzled with The Caves Signature Herb Dressing
Coconut Shrimp - Succulent Shrimp Simmered in a Savory Coconut Sauce Served with Seasoned Basmati Rice, Sautéed Jamaican Spinach & Fried Ripe Plantain
Citrus-Berry Custard Cake

Set in lush indigenous bush with winding paths, the many hand-crafted cottages have different permutations to suite all our guests' requirements. In order to maintain the intimacy of the resort, only children age 16 and up are permitted.

There are both one and two bedroom cottages available. As each cottage is distinct, this is just a sampling of the type of accommodation to expect: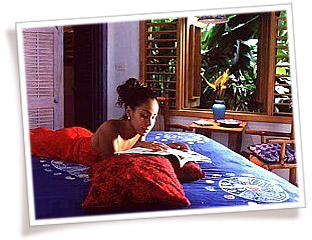 Sample one bedroom - Blue Dolphin
Blue Dolphin is a first floor one bedroom suite with furnished front patio, ocean view, beautifully hand carved king size bed and beautifully molded inside shower and bath. A living/dining area and kitchenette features a well-stocked refrigerator and other utensils.

Sample two bedroom cottage - Sundancer
Sun Dancer is a deluxe two bedroom ensuite cottage of wood and thatch with two bathrooms. The master bedroom is upstairs; it's king-size bed looks toward the ocean through louvered double doors leading to the balcony, which extends into a sun deck.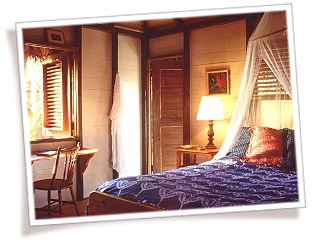 Sun Dancer has a traditional bath and shower; upstairs seating areas and writing desk complete with telescope. The second bedroom is downstairs; it features a queen-size bed with an ocean view and a small writing desk.

It has a living room area, kitchenette (a fully stocked refrigerator coffee-maker and other utensils) with breakfast counter and stools, and front and back porches.


(From the Robb Report - The Caves was ranked in their "World's Greatest Ten Resorts")

"Balmy breezes waft through a cottage's louvered windows at the Caves in Negril, Jamaica, rustling mosquito netting draped over a king-size bed."

"Outside, torquoise water laps languidly against rocky cliffs, recalling the Caribbean before high tech hotels vanquished the landscape and personal watercraft disturbed the calm."

"... a hot tub and saltwater pool complement a spa housed in an airy cottage with endless ocean views."


Interested in learning more about The Caves?
Call us at: 905-857-1556 or 800-563-2338
Or send us an email at: customercare@explorata.ca