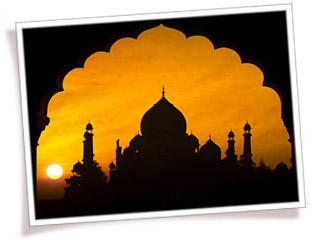 India's history is intimately tied to its geographical role as a bridge between East and West. Its natural isolation and magnetic religions have allowed India to adapt to and absorb many of the peoples who penetrated her treacherous mountain passes.

Whether it's sitting atop an elephant as it lumbers its way up to Amber Fort or listening to a dust-covered sadhu singing his timeless lament on the shores of the Ganges, this journey will leave your senses stimulated and your spirit moved by the power of an ancient civilization.

Riding in a traditional horse-drawn carriage to the gates of the Taj Mahal at dawn to experience this monumental poem in marble as it was meant to be experienced - in the peace and quiet of the early morning light, before the crowds, when it is possible to take off your shoes and feel the cool marble beneath your feet.
Experiencing the wild kaleidoscope of sights and sounds and colours that exist in the marketplaces of Rajasthan as silk makers, goldsmiths, water sellers and spice traders ply their trades.
Feeling the spiritual peace that descends over the holy Ganges in the early hours of the morning as the Hindu pilgrims make their way down to the bathing ghats to cleanse themselves of evil in the sacred ritual of bathing.
Varanasi, on the sacred shores of the Ganges, where we visit temples and shrines at sunrise, and search for the finest silks in Pili Kothi, and dine with a renowned scholar from Banaras University.
Keoladeo Ghana National Park in Bharatpur, where after a rickshaw excursion through the park to view some of the 400 species of birds, we retire to Chandra Mahal Haveli for lunch with the royal family.


Overview
Itinerary
Trip Details
About Horizon & Co.
Terms & Conditions
Brochure Request
Contact Us

Email a friend
Print-friendly page


DATES




Oct 15-Nov 2, 2006





TRIP LENGTH




19 nights/20 days





PRICING




$7950 per person




($1415 single supplement)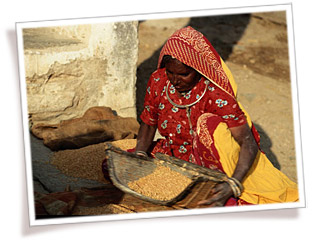 Loharu House, where we enjoy an evening as guest of Begum Fauzia and explore the house of the 8th Nawab of Loharu before sitting down to cocktails and a lavish banquet.
Rohetgarh village, where we meet local Rajasthani people such as the ecological Bhishnois community or the semi-Nomadic Raika shepherds donning crimson and marigold costume, and witness sacred ceremonies of brotherhood as weavers and potters perform their crafts as done for centuries.

Interested in learning more about this trip?
Call us at: 905-857-1556 or 800-563-2338
Or send us an email at: customercare@explorata.ca
For more information also check out these pages: Itinerary, Trip Details and Terms & Conditions