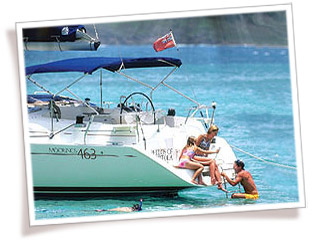 The Moorings is the world's premier yacht charter company, offering unmatched quality, service and attention to detail, for over 36 years. We have a vacation plan for everyone regardless of sailing ability, in the most desirable locations around the world. You can crew your own yacht with our bareback charters or have us take care of the sailing for you.

Select one of the following:
Bareback Charters
Crewed Charters



Brochure Request
Contact Us


Email a friend

Print-friendly page
BAREBACK CHARTERS
We help you plan your sailing vacation and make all the arrangements for you. When you do step aboard, you'll see why our yachts are considered the best:
All are custom-built for easy handling and maximum comfort during your yacht charter.
All are meticulously maintained, masthead to keel, stem to stern.
We'll fully provision your yacht and have everything you need to step aboard and sail away.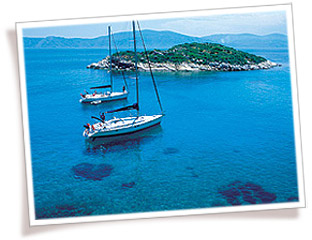 If you're thinking of chartering for the first time, you'll be glad you chose The Moorings, the company that was built on providing the perfect charter experience, the first time and every time.No matter what your level of sailing skill, we have a yacht and vacation plan that's right for you.



No formal certification of any kind is required to charter from The Moorings. Qualification is based purely on your sailing experience.



Your yacht will be ready to go when you arrive. Ice, fuel and water on board, engine running - all you need do is slip your lines and start your sailing vacation. We also provide snorkeling gear and most of our yachts include amenities such as a barbecue grill, bimini, GPS, and autopilot. Almost any other need you may have can be provided for; from rental cars and guided tours to sea kayaks and dive equipment.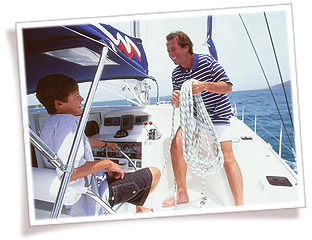 Before you sail away, we'll give you a detailed chart briefing on your cruising area. You'll know where to find the best anchorages, restaurants and beaches and be able to spot any navigational hazards. We will then give a thorough briefing on your yacht, its operation and the equipment aboard. You'll also have the option of using our complimentary Friendly Skipper program. This service provides an experienced skipper who will take you out for the first afternoon so you can feel more at home on our waters.


CREWED CHARTERS


Your Moorings Signature Vacation is unique in every respect. Whether you're embarking on a free-spirited solo adventure, or a large group vacation.

The Moorings offers you a diverse fleet of customized yachts with cruising options that are just right for you. Imagine it - you and your family or a few friends sailing through the clear warm waters of some of the best cruising areas in the world on your private yacht. This is no ordinary vacation, this is a Moorings Signature Vacation.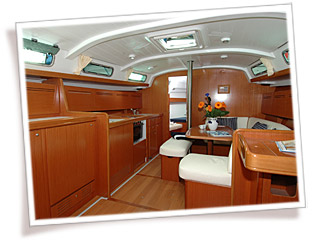 We have exciting destinations, peerless crews and the newest and most luxurious yachts, we can't wait to welcome you!



Comfort, space and graceful lines distinguish your Moorings Signature Yacht. Our Moorings M4500, M4700 , M6200 Custom Catamarans and our award winning Moorings 554 surround you with what makes your vacation absolutely unforgettable.

Moorings Signature yachts are designed for parties of up to eight to sail in comfort, while custom features such as spacious decks, large sunpads and easy boarding on the transom beckon you to play outside, and the beautifully appointed interiors surround you with refined charm.

You can rent your yacht from as little as 5 days and experience the allure of chartering a private yacht at it's best.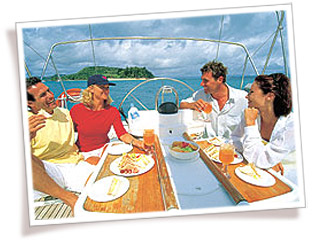 When an entire yacht is more than you require, our Sail-Away Stateroom vacations allow you to indulge in the luxury of a fully-crewed yacht charter for the price of a single cabin. Available in Tortola, Belize, Canouan, Abacos, and Tahiti. These 7 day/6 night packages offer all the excitement and freedom of a private yacht charter, and the fun of meeting new friends, for a fraction of the cost.



For tropical fun, select the Minicruise Vacation Package - The Perfect Sampler. Combine a resort stay with 4 all-inclusive nights on a luxury yacht in Tortola, the British Virgin Islands & Canouan, the Grenadines.


All food, beverages, fully stocked bar
Stereo with CD player
Double staterooms with en suite lavatory and shower
Freshwater showers on deck
Housekeeping services
TV with VCR
Air Conditioning (except I50)
Snorkeling equipment and flotation aids
Sailboard on request, kayak and tube
Cellular telephone (*Select locations)
Additional oversize ports and hatches for greater ventilation

Your Captain and Chef are hired as a team, selected by The Moorings for their qualifications, experience and excellent customer service. Your Moorings crew's utmost concern is giving you the best sailing vacation ever, from showing you the best spots to snorkel to serving up your favorite drinks and snacks, or choosing the perfect anchorage for an awesome sunset.They'll even let you take the helm and provide sailing instruction should you wish.

All Moorings crews share a love of sailing and entertaining and it shows. Each has a unique background and range of experiences. Guests from around the world give consistently top ratings to our crews.



Interested in learning more about The Moorings?
Call us at: 905-857-1556 or 800-563-2338
Or send us an email at: customercare@explorata.ca